Chicken Tarragon with Almonds
Posted on

25 Feb 2013

One of my favourite dishes is this relatively simple and very tasty chicken dish, which was also a favourite from my childhood. The original recipe came from my father and I've since made it my own –where he got it I can't recall, but that is the beauty of recipes. 😀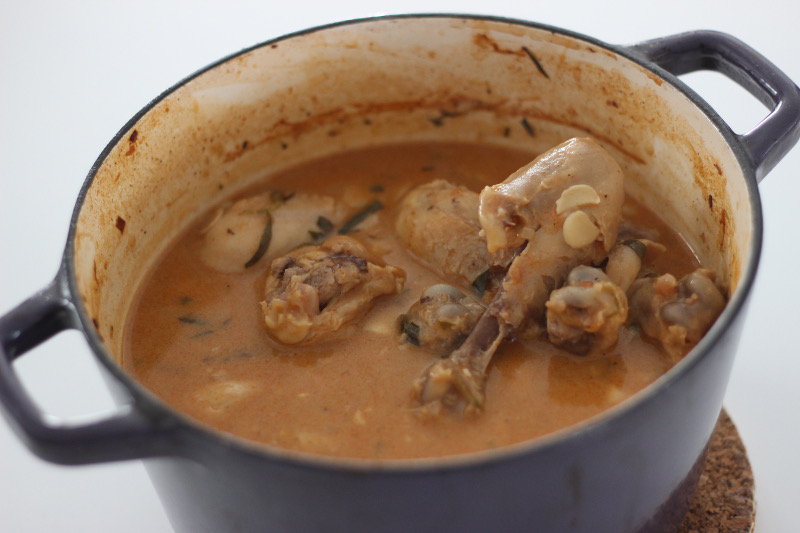 Ingredients
| Amount | Ingredient | Notes |
| --- | --- | --- |
| 4 lb | chicken thighs or legs | 10-12 pieces |
| 2 tablespoons | butter | — |
| 1 tablespoon | olive oil | — |
| 1 | onion | diced |
| 2 cloves | garlic | minced |
| ¼ cup | dry sherry or dry white wine | — |
| ¼ cup | all-purpose flour | — |
| 2 tablespoons | tomato paste | — |
| 2 cups | chicken stock | — |
| 1 teaspoon | dried tarragon | — |
| ¼ cup | chopped almonds | — |
| ⅓ cup | Parmesan cheese | freshly grated |
| — | salt & pepper | to taste |
| ¼ cup | sour cream | — |
Directions
Preheat oven to 350°F.
In a deep oven-proof casserole pot, melt the butter over medium-high heat.
Add the chicken and brown on all sides. Remove and set aside.
Next add olive oil to the pan plus the onion and garlic. Sauté while scraping the browned chicken bits from the pan.
Add the sherry (or wine), flour and tomato paste. Whisk to combine.
Pour in the stock, whisking thoroughly as you do.
Add the almonds, tarragon & Parmesan cheese and bring to a boil.
Season with salt & pepper, to taste.
Return the chicken parts. Cover and braise in the oven for at least 1 hour.
Before serving, stir in the sour cream.