Lemon Anise Biscotti
Posted on

21 Nov 2014
| | |
| --- | --- |
| Yield | Two dozen biscuits |
| Total Time | 1 - 2 hours |
| Equipment | sheet pan, microplane grater (for zesting lemon) |
Biscotti is a sweet, Italian twice-baked biscuit ("biscotti" literally means twice cooked, so does "biscuit" for that matter) that's typically make with either or a mix of dried fruit, nuts, and a fragrant spice.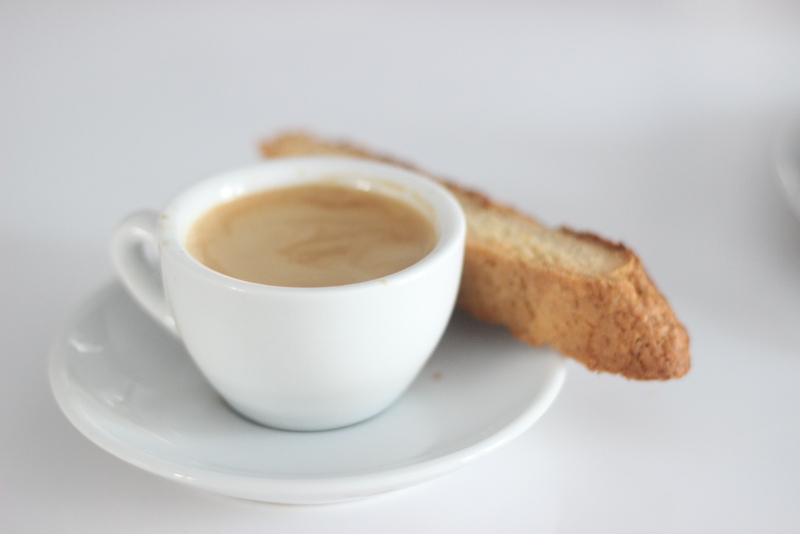 There are many many variations of biscotti, with different flavour combinations, but I like to keep things simple and I tend to omit the whole nuts or dried fruit and opt for aromatic flavours such as the lemon and anise in this recipe.
Ingredients
| Amount | Ingredient | Notes |
| --- | --- | --- |
| 2 3/4 cups | all-purpose flour | You can substitute a ¼ cup of almond flour. |
| 2 teaspoons | baking powder | — |
| 1 cup | sugar | — |
| 1 cup | butter | — |
| 1 teaspoon | ground anise | — |
| 1-2 teaspoons | lemon zest | about as much as you would get from one lemon |
| 1 teaspoon | vanilla extract | — |
| 3 | eggs | — |
| 1 cup | almonds | whole or chopped, optional |
To toast almonds (or any nut) simply heat a dry pan to quite hot & toss the nuts in. While shaking to prevent burning, cook until they start to brown and become fragrant.
Directions
In a large bowl, combine the flour and baking powder. Set aside.
In another bowl, combine the sugar with the ground anise and lemon zest, then mash it into the butter.
Loosely beat the eggs, add to the butter along with the vanilla and combine well.
Add that mixture to to the dry ingredients and bring together into a smooth dough. (Knead in any chopped nuts and fruit if you are using them.)
Wrap in plastic wrap and chill in the fridge for at least 30 minutes.
Preheat your oven to 350°F. Remove the dough from the fridge and divide in half and form each half into a long thin log approx. 8cm x 32cm.
Place each log apart from each other on a lined baking sheet, and bake for 30 minutes until golden brown.
Remove from the oven and let cool on a wire rack for 15 minutes or so.
Cut each log into 2 cm slices and arrange them on the baking sheet with the cut side face up.
Return to the oven, lower the temperature to 250°F. and bake for another 30 to 40 minutes, until golden brown and completely dry.
Remove finished biscotti from the oven and let cool on a wire rack before eating.
The angled cut seen in here is a result of cutting the biscotti log on a bias (45° angle).