Molten Chocolate Cake
Posted on

11 Jul 2013

A molten chocolate (lava) cake is one of these things that seem fancy but are really quite straightforward. I'll demystify it for you: it's just a small, rich, underbaked chocolate cake filled with the hot uncooked batter.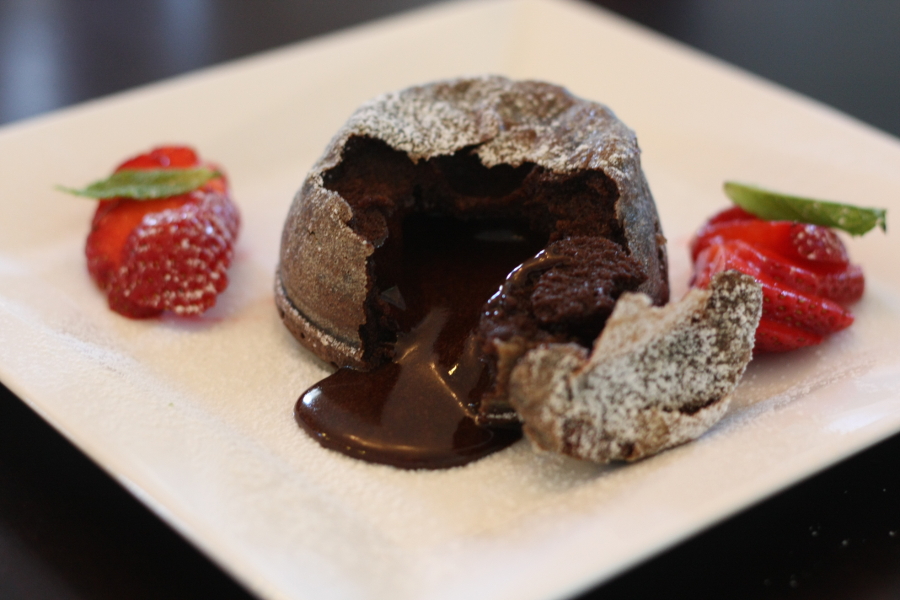 For the added fanciness above: put some powdered sugar in a mesh strainer and tap it over a plate to dust it, then slice a couple strawberries nearly all the way through and fan them out and top with a bit of mint.
| | |
| --- | --- |
| Prep Time | 10 minutes |
| Cook Time | 7-12 minutes |
| Equipment | 3-5 overproof ramekins or any other ovenproof moulds |
Ingredients
| Amount | Ingredient | Notes |
| --- | --- | --- |
| 4 oz (1 cup) | bitter- or semisweet chocolate | chopped or in chip form |
| ½ cup | unsalted butter | plus more for greasing the molds |
| 3 | eggs | — |
| ¼ cup | sugar | — |
| 2 teaspoons | flour | plus more for dusting the molds |
Directions
Place the butter and chocolate into a large microwave-safe dish and melt it. Remove stir until smooth.
Crack the eggs into a bowl. Add the sugar and beat or whisk until light and thick, about 1 minute.
Add egg mixture and the flour to the melted chocolate and beat until combined.
Grease and lightly flour your ramekins. Take care in coating them completely or the cakes will stick.
Divide the batter evenly among the ramekins. At this point you can refrigerate them for up to 3 hours. 
When you're ready to bake, heat an oven to 450 degrees Farhenheit. (If you've refrigerated the ramekins, bring them back to room temperature before baking.)
Put the ramekins on a baking sheet and bake until the cakes have risen a bit, about 7 to 12 minutes depending on your ramekin.
Remove from oven and let sit for about 1 minute to cool.
To remove a cake from a ramekin: place a plate on top of it and carefully turn that over. Let it sit for 10 seconds or so before you lift up the ramekin.
Serve immediately. Garnish with powdered sugar, sliced fruit, mint leaves or anything you like, if desired.