Pork Filled Spring Roll
Posted on

30 May 2013

Rice paper is something I usually have in stock, because: a. it keeps well and b. I love to make spring rolls. Now this recipe is for spring rolls filled with a stir-fried pork dish, but they can be literally stuffed with almost anything and cooked in numerous ways.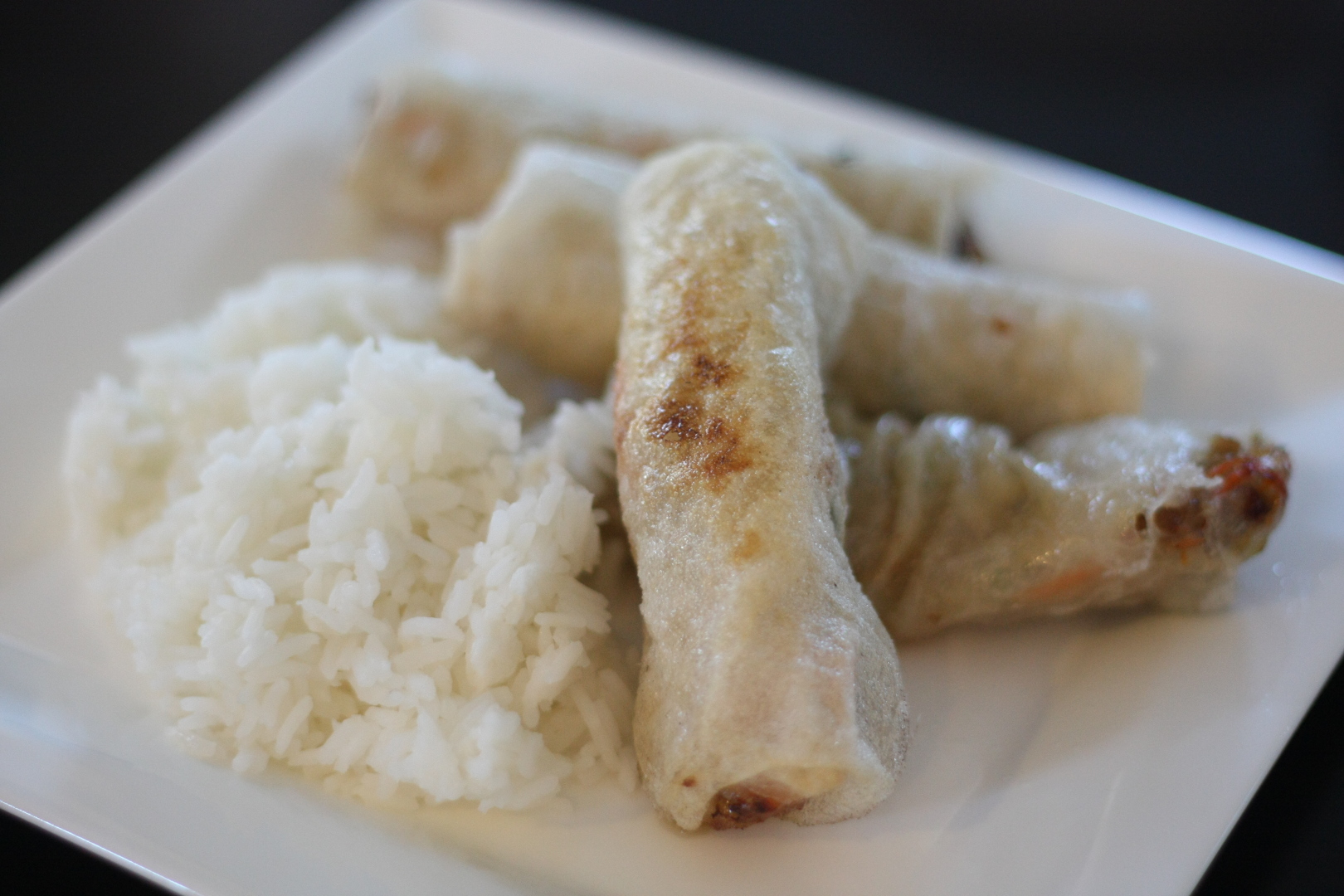 Pork Stir-Fry Recipe
Ingredients
| Amount | Ingredient |
| --- | --- |
| 500 g | ground pork |
| 1 teaspoon | soy sauce |
| ¼ teaspoon | hot chili flakes |
| ¼ teaspoon | Sichuan pepper (if you have it) |
| — | black pepper |
| 1 cup | shredded Savoy cabbage |
| 1 | carrot, cut into matchsticks |
| ½ cup | bean sprouts |
| 1 small | onion, halved & thinly sliced |
| 1 | scallion, thinly sliced |
| 2 cloves}garlic, minced |   |
| 1 3-cm piece | ginger root, peeled & minced |
| ¼ cup | chicken stock |
| 2 tablespoons | cornstarch |
| 1 tablespoon | soy sauce |
| 2 tablespoons | oyster sauce |
| 1 tablespoon | cilantro, chopped |
| 1 tablespoon | peanut oil, for frying |
Directions
Combine the pork mince, black & sichuan pepper, chili flakes and soy in a bowl. Set aside, while you prep your vegetables.
In a small bowl, dissolve the cornstarch in the chicken stock with the remaining soy. Set aside also.
Preheat your wok over medium-high heat.
Add 1 tablespoon oil, followed by the pork mixture and half of your minced garlic and ginger.
Fry until the pork is just barely finished cooking, then remove.
Add another tablespoon of oil.
Flavour the oil by first frying the ginger, garlic and onion.
Add, in order, carrot, cabbage & bean sprouts –stir frying for about 10 seconds between each.
Return the pork to the wok.
Add the chicken stock mixture (stirring it briefly to re-homogenize) and increase the heat and cook for about 3-5 minutes.
Stir in the sliced scallion, cilantro and oyster sauce. Serve.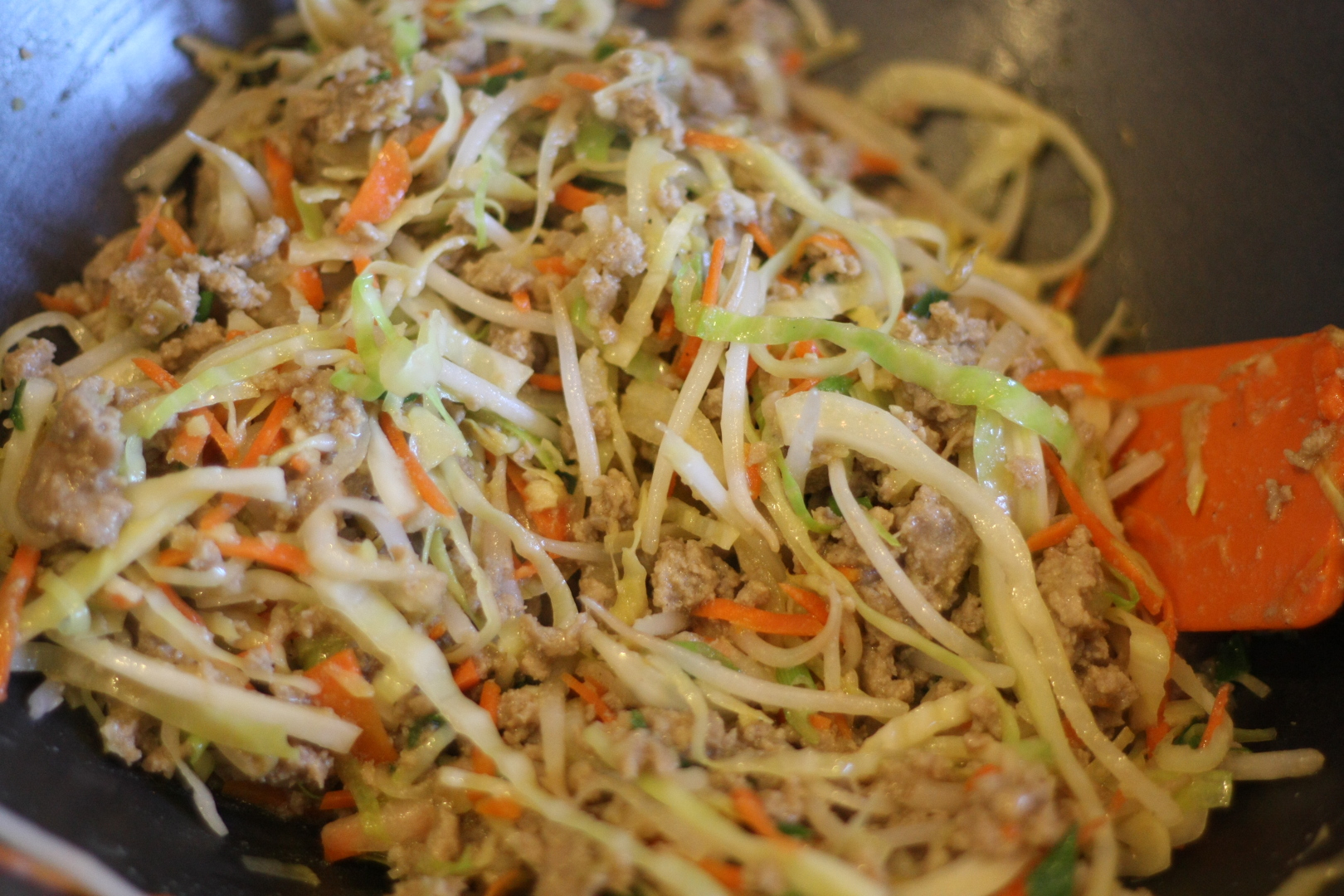 This stir fry can, of course, be a dish in itself, served with rice or what have you. Now onto assembly.
Spring Roll Assembly
Things you'll need:
lukewarm water
rice paper
space for rolling
your filling
a spoon
Directions
Soak rice paper in water, as per the manufacturers' specification, usually it's only a few seconds.
Place one or two spoonfuls of filling (depending on your spoon) in the lower third of your rice paper.
Fold the same third over your filling, tucking it gently underneath.
Fold the two sides of the rice paper over towards the centre, tucking it again.
…and roll.
Now these spring rolls can be eaten as is, or fried, steamed, treated as a dumpling and added to hot broth –whatever you desire. Enjoy :)