Quick Tomato Sauce
Posted on

26 May 2014

Here's a quick recipe for a red sauce.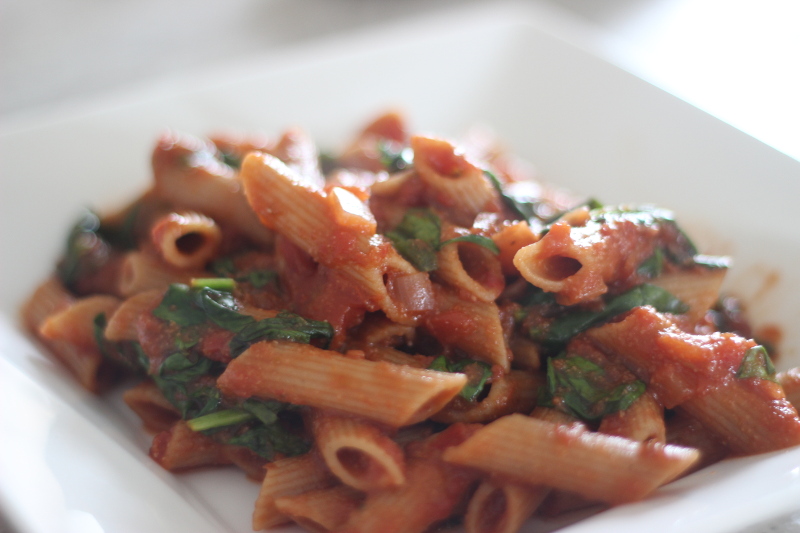 Ingredients
1 large (28 oz.) can tomatoes, diced or whole (uncooked)
1 can (12 oz.) tomato paste
1 bulb of garlic (10-12 cloves), minced or thinly sliced
1 onion, diced
1-2 tablespoons, olive oil
2 bay leaves
2 tablespoons dry oregano
250-300mL red wine (a glass of)
salt, to taste
1 bag, baby spinach
1 500g box dry pasta, your preference such as penne or farfalle (bowties)
Directions
Preheat your skillet over med-high.
Add olive oil and saute the garlic & onion for a few minutes.
Add the wine, canned tomatoes & tomato paste. Stir.
Add the bay leaves & oregano. Season with salt. Simmer for 8-10 minutes.
Cook your pasta and encorporate into sauce. Cover & let it absorb the sauce for a few minutes.
Place the bag of spinach atop the encorporated pasta-sauce mixture & cover –the remaining heat will be enough to wilt the spinach.
When spinach is wilted, serve and garnish with grated Parmesan, if desired.